Naked Girls Reading, PuSh Festival's La Marea and When Oil Meets Water
2011 has kicked off with a blast (of warmish air). As we hit the event scene in Vancouver this week, we are beyond thrilled to report on a variety of events from Naked Girls Reading, PuSh Festival's La Marea to ForestEthic's When Oil Meets Water plus more. Interestingly, a lot of our fave events are happening on Thursday this week.
Top Picks
Jan 20-22 | 7 - 9 PM | Water Street in Gastown between Abbott & Carrall St | Free
At night and in real time, moving from the pavement to illuminated windows, from balconies to café terraces, La Marea presents nine different stories—intimate snapshots that bring the zero hundred block of Water Street in historic Gastown to life for the opening of the 2011 PuSh Festival. These fictional scenes are repeated over the course of the evening in shop windows and on street corners, where audience members can observe the characters' inner thoughts through projected subtitles. Audience members may come and go as they please. Each of the nine scenes lasts ten minutes and are repeated concurrently between 7pm and 9pm. The performance takes place outdoors so dress warmly.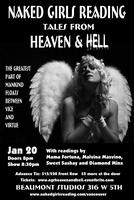 Naked Girls Reading: Tales From Heaven & Hell
Jan 20 | 8:30 PM | The Beaumont Studios | $15-20
Naked Girls Reading is a live salon event where a group of beautiful ladies love to read in front of a live audience...naked. It began in Chicago in March of 2009 and quickly spread to a host of other cities around the globe. This month's readers are Mama Fortuna, Malvina Masvino and Sweet Sashay along with the hostess Diamond Minx. This event will sell out, so get your tix fast.
When Oil Meets Water: Living Through Oil Spills
Jan 20 | 7 PM | St. James Community Hall | Free
Destroyed habitats. Birds covered in oil. Almost a year after the BP Gulf oil spill, the wreckage from the disaster is impossible to forget. Did you know that B.C. could be at risk of a major oil spill accident too? Come hear personal accounts from people impacted by spills in the Gulf of Mexico and Enbridge's disastrous pipeline leak in Michigan. Find out how you can project our coastlines from similar tragedies. Thanks to our friends at ForestEthics for hosting the event, Claudia Li and Adrian Sinclair.
Honourable Mention
Get Your Vote On Revival Ideas Slam
Jan 20 | 7 PM | Roundhouse Community Centre | Free (registration required)
In the months leading up to the 2004 Federal and 2005 Provincial elections, Get Your Vote On mobilized youth across the province and registered over 20,000 new voters. There was an upswing and climbing trend in youth participation in electoral politics and getting out to vote. Through creative, fun, and sexy tactics and campaign organizing, Get Your Vote On was onto something special and youth responded. Municipal, provincial, and federal elections approach within the next 10 months to 2 years. It's the perfect time line to build capacity and youth engagement incrementally across the province (and country?). This is our opportunity to give voter apathy a big kick in the @$%!
Destino (A huge Salsa party)
Jan 20 | 9 PM | Club 560 | Free / $10 / $15
3 rooms - 3 experiences - 1 night! Our friend Angelita (www.SalsaCruises.com) is hosting the most incredible collection of SALSA DJ's: Jorgito B, Luis "friskybeat" Machuca and Zak Santiago. Salsa lesson by Choco at 9:15pm. Ladies free before 10pm. Guys $10 before 10pm. After 10pm $15. If you wanna learn or show off your SALSA moves than this is the night.
Forks Over Knives Movie Screening
Jan 20 | 7 PM | VPL Central Branch | Free
Jan 20 | 9 PM | Cobalt | $7
+ Afterparty DDP-style (i.e., party on the streets w/ boomboxes)
Upcoming
Hard Core Logo: LIVE | Jan 26 – Feb 8 | 8PM | Rickshaw Theatre | $25
International Development Drinks | Jan 27 | 5:30 PM | Blarney Stone | Free
Freeze Your Bike Off Ride | Jan 29 | 12 Noon | Meet under Burrard St Bridge – downtown side | Free