Masala Picks for Halloween: Secret Souls Walk | Waldorf | DDP + Much More!
Booooooooo!! Did I scare you?! Well great.... Just getting everyone prepared for the upcoming List of Events! Move aside Masala Puri and make way for MaNnYfReSh's Picks for this week!! And boy do we have some exciting parties lined up for you this weekend!!
Masala has been quite busy these past few weeks and I have decided to take over the Reins ! What do I have in store, keep reading if you DARE......muahahahahahaha!!!
Here are my TOP 3 events for Halloween TONIGHT:
TONIGHT 5pm-9pm

| Victoria @ 4th Ave | Free
Andrea Curtis and her Dusty Flowerpot crew will be enticing you into our back alleys, streets, and open spaces to awaken our neighbourly spirits. Come in costume, and in character! Bring a flashlight, and your imagination – we'll be telling this story together. Residents in the area have been invited to transform their homes in order to set the stage with our artists. Public Dreams will be hosting an interactive celebration at Britannia Community Centre, between 5pm and 9pm.
Secret Location ANNOUNCED today! Meet at Victoria / 4th
WE ARE HEADING THERE FOR 530pm
TONIGHT 6pm-2am
|
The NEW Waldorf Hotel
| Free
East of Main is pleased to announce the launch of the new Waldorf Hotel in the hood!

To celebrate, they're throwing a ***FREE*** multi-room Halloween party that will showcase the entire complex including our newly renovated hotel rooms and lobby, two dining areas, a freshly restored 1950s tiki bar and both nightclub and banquet spaces (the Cabaret and the Leeteg Room).
Come join the festivities with 5 DJ Sets, Performances and of course a Dance PartEE SHARTEE!

WE ARE HEADING THERE FOR 730pm :)
TONIGHT 10pm-3am
| Vancouver Art Gallery
| Free!
Tom & Gary are THEY'RE INVADING VANCOUVER WITH A ROAMING DANCE PARTY COMPRISED OF AN ARMY OF BANANAS CARRYING SYNCHRONIZED BOOMBOXES!! Thats right, an army of Nanners!!!
Coming Up
Passion for Justice [PIVOT Legal Society]
Nov 4 630-1130p | District 319 | $25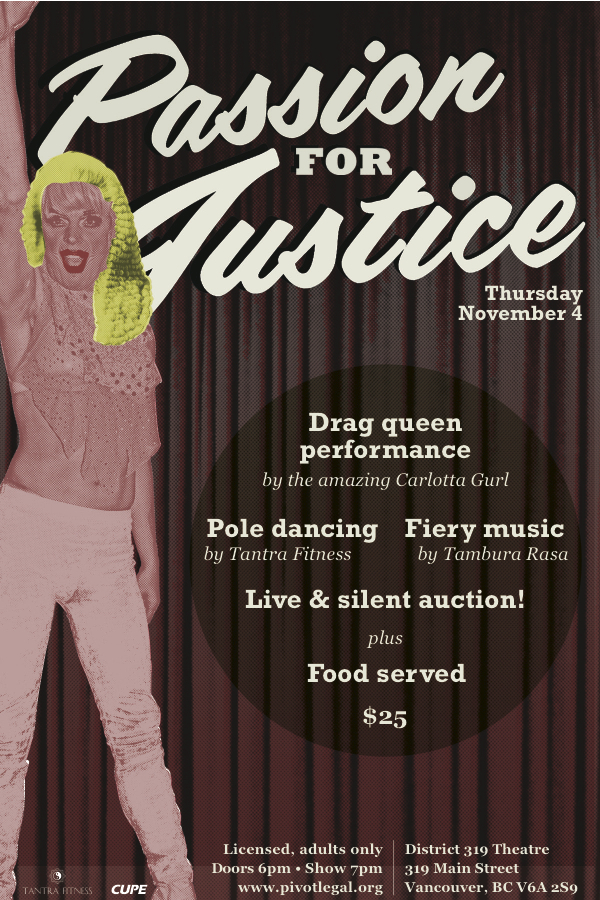 Passion for Justice is one of the hottest parties around and this year will be no different. They have an amazing show lined up that starts with the fiery Spanish Guitar of Tambura Rasa and ends with a drag show by the amazing Carlotta Gurl. We have also thrown in some pole dancing by Tantra Fitness to push the night over the top. Tickets include the show, food, and the auction. All proceeds from Passion for Justice go to support Pivot's work on behalf of residents of Vancouver's Downtown Eastside.

Vancouver Celebrates Diwali


Nov 2 - 7th| Community Centres | FREE
Come celebrate the Hindu new year! Diwali is a time to celebrate the universal light that exists in everyone, so come "Light Your Sprit!".
This weeks list compiled by: Maneesh Puri