Coach Alan Bates reports on the Homeless World Cup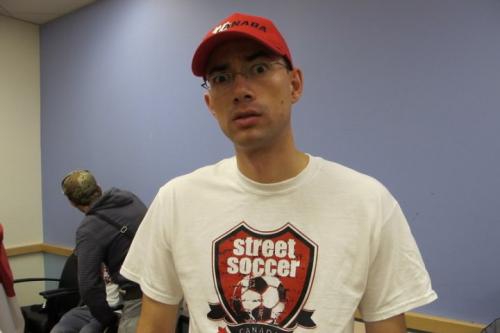 Homeless Cup Team Canada Coach Alan Bates reports from Brazil. His letter follows:
Hi Street Soccer Fans,
Day 2 started with a meeting to comment on successes and address problems that we had on day 1. Let's be honest, this kind of trip was never going to be without its challenges. I think we're lucky to be here a bit early to work out little things and start to bond as a team.
If you just want to see some photo highlights from today, go to:
Team Canada Captain Patrick Oleman strikes a pose
After being joined by all the Vancouver-based volunteers who came a day later than the team, we decided we had to hit the beach. We played frogger across 7 or 8 highways (crosswalks seem not to have been invented yet in Brazil) to get to beautiful Botafogo beach. It's covered in soccer nets. There's also a great view of the Christ on the way there.
We then went for salad and pizza washed down with Guarana before returning back to the Hostel to wait for our uniforms. I can't really describe in text how excited the guys were about the unis: home and away professional-looking jerseys, shorts, socks, new shoes, and tons of flags. Paul, Wendy, and Michelle from Street Soccer Canada did a great job getting it all together and to Rio. There were expletives and tears, both out of happiness.
Coolest Guys at Sao Paolo Airport and Coach)
After taking some pictures at the Hostel, we went to break in the new gear by playing with the kids that the players have befriended. We mixed up the teams and had a great game. The kids have awesome skill. A little more size and you could see them really tearing up a soccer field. Some other guys who were standing around joined in the game too. It was a bit like those hockey commercials we have where a ball hockey game just spontaneously erupts out of random people on the street.
We finished the night with a casual dinner at the hostel and are looking forward to finding out who our competition is in the first round tomorrow. Korea, Norway, Poland, and the US are all staying near us. The guys want to play the best teams. We all feel it's just going to be so cool to play teams from other countries. It doesn't really matter who the individual guys are. Just the fact that they all flew here from some other nation to compete with us is awesome.
Team Canada and Team Korea
Tomorrow: Group draws
Sunday: Parade, Opening Ceremonies, first games of the tournament
Thanks for your support,
Alan
Patrick Oleman and Randy Comiso on Botofago Beach